Animated signature sample
If you are not sure if you will be able to use an animated signature, simply download this sample sig and try for yourself using the email client of your choice.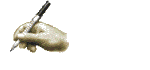 To download right click in the box above and 'Save Image As', image must be saved as a GIF filetype not as a Bitmap or anything else*.
If you are unable to save the image as a .gif file or having any issues downloading directly from the page, click below for a zip file or direct download of the sample image.